Ayurvedic Cooking Classes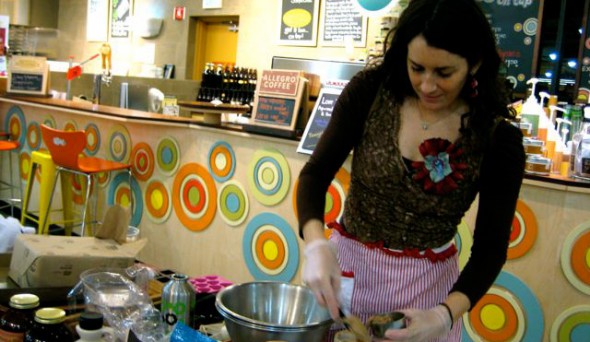 Be educated and inspired to cook delicious nutritious meals with ease. Classes are hands-on fun and include Ayurvedic teachings and recipe books. Finally… cooking classes where you learn personalized nutrition AND how to cook easy, healthy & incredibly yummy food. Sign up for a whole series!

All cooking classes include a gourmet meal (you make it!) and a recipe book – including bonus recipes!
While my website is being updated, cooking class topics and dates will be released through my newsletter. To receive the Talya's Kitchen newsletter (we send only occasional, event-related emails with recipes and coupons towards services with Talya), please go to the home page to sign up.
Class Sizes are Limited so please pre-register to Reserve Your Spot.
Most of Talya's cooking classes are currently offered through New Leaf Community Markets in Santa Cruz and San Jose. Visit New Leaf to register.
Private Cooking Classes are also available. Contact Talya to create a class of your own – you choose the topic and together we gather the group!
A Sample of Cooking Class Topics
Soups & Stews
Aaaah… the heartfelt, inward time of making soups is here. It's time to stay inside, especially in the evenings, and warm our bodies from the inside-out.  Join Chef Talya Lutzker for a hands-on evening of winter-warming soups and stews: delicious one-pot meals to weather the cold days to come. The predominantly vegan meal of soups and stews will be accompanied by gluten-free treats like "Savory Soup Scones" and Ayurvedic "Ginger-Beet-Daikon" relish. Soups and Stews – the true "One Hit Wonders" of Ayurvedic Cooking.
LOVE: A Self-Care, Body-Care Class
Have you always wanted to learn how to make your own natural body care products? In this class that celebrates health as a gateway to self-love, you will learn body-care practices that stimulate lymphatic drainage, boost immunity, nourish kidney and adrenal function and help maintain healthy weight.
Talya has over 10 years of experience working with potions, herbs, oils, aromatherapy. All products, including "Hydration from the Outside-In" Body Oil and "Rose Face Crème" make wonderful gifts and are made from 100% pure, wholesome and mostly edible ingredients.
Sign up for email notification for these and similar classes