Store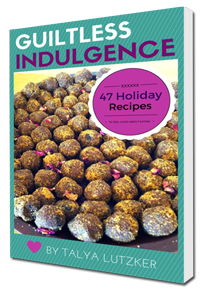 GUILTLESS INDULGENCE
Got a sweet tooth but don't want all the sugar?
Feel gross after eating so many sugary-sweet treats at the holidays?
Me, too!
So I've spent the last 13 years creating feel-good, taste-great, guilt-free, love-myself desserts.
GUILTLESS INDULGENCE is a collection of sweet recipes I've written, adapted, and shared since 2003. All are gluten-free and practically free of refined sugars – almost 100% natural sweeteners are used. Most are dairy-free and all are simple to make, easy to freeze, fun and unique.
Grab your copy of GUILTLESS INDULGENCE today!
GUILTLESS INDULGENCE: delicious dessert recipes that are sweet to taste and good for your gut. Join the better dessert revolution! Get Yours.
$17 through Sunday, November 29th at midnight. After that, $29 on my website.
---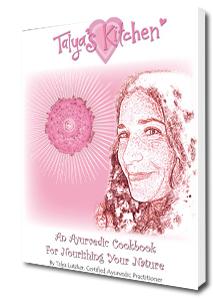 Talya's Kitchen Cook Book – $28.00 (+shipping)
An Ayurvedic Cookbook for Nourishing Your Nature
Choose a shipping rate and click the 'Add to Cart'
button below to order your hard copy
eBook (PDF)
$20.00 (Immediate download)
---

MILA – The Miracle Seed
MILA cold-fractures varied strains of chia seeds, making them super-easy to digest and assimilate. MILA is gluten-free, vegan and 100% natural whole raw chia seed.
MILA chia seeds are grown on especially fertile soil, which makes their nutrient profile (Omega-3's, antioxidants, phytonutrients, vitamins and minerals) remarkable. Plus, they're an incredible source of hydrating protein and fiber. I love MILA chia seeds!
Available in family-size (16oz), travel (4oz), and on-the-go (singles) sizes.