Guiltless Indulgence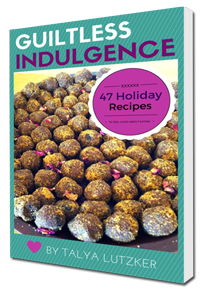 Got a sweet tooth but don't want all the sugar?
Feel gross after eating so many sugary-sweet treats at the holidays?
Me, too!
So I've spent the last 13 years creating feel-good, taste-great, guilt-free, love-myself desserts.
GUILTLESS INDULGENCE is a collection of sweet recipes I've written, adapted, and shared since 2003.
All are gluten-free and practically free of refined sugars – almost 100% natural sweeteners are used. Most are dairy-free and all are simple to make, easy to freeze, fun and unique.
Grab your copy of GUILTLESS INDULGENCE today!
GUILTLESS INDULGENCE: delicious dessert recipes that are sweet to taste and good for your gut. Join the better dessert revolution!