Indian Fudge – A Love Story
An Indian Fudge Brownies Recipe You Will Fall in Love with
Hello!
I have a love story for you…
This is me smiling.
I'm smiling because this picture was…
Taken on my birthday
When I was at a party in India
India is my most favorite place ever
My friends and I had just eaten Indian fudge.
This was no ordinary fudge... it some of the best fudge I've ever tasted.
And I didn't even know Indian fudge existed until I was IN India (perhaps, like you, it never occurred to me to equate Indian culture with gooey chocolate goodness).
It was the winter of 2010. I'd journeyed out to study at the Ramamani Iyengar Memorial Yoga Institute in Pune. On my way there, I stopped for a few days in Matheran – a beautiful "hill station" nestled between Mumbai and Pune.
Matheran is famous for having no cars, clean air, lots of monkeys and really good chikki – a classic Indian sweet made from nuts or seeds, ghee (clarified butter) and jaggery (a truly delicious Indian brown sugar).
I was going to stay with a family in Pune, and I wanted to bring them a gift. Matheran's famous chikki seemed perfect, so I bought one for them and one for me.
Upon tasting it, I understood the hype was for real – Matheran's chikki is AMAZING.
I ate a whole package before I even left Matheran, and couldn't fathom the idea of leaving without more.
Alas, there was no more Matheran chikki in my future and my last minute, late-night chikki mission was a bust! I arrived in Pune chikki-less, save for the chikki I'd set aside for my host family.
As it turns out, I shared my chikki story with an Indian couple who, upon meeting me in line at a local restaurant, took me out to lunch AND invited me to their wedding…
I'm telling you. How can you not love India?
They informed me that the BEST chikki actually comes from a nearby town called Lonavla, and that it was just a train ride away.
Without hesitation, I boarded the train to Lonavla the very next day. I was Cooper's bound – a sweets store the couple said was the BEST.
I was thrilled to reunite with fresh and abundantly available chikki. AND, most importantly, I was introduced to Indian fudge.
I purchased far too much to eat by myself and traveled back to Pune all smiles and full of excitement.
That's how fudge became my "T"-shaped birthday cake and the rest is history : )
The recipe I'm sharing with you today is NOT fudge – they're brownies. But they're fudgy and delicious, and my tribute to the incredible times I've had in India, which I'll never forget, or take for granted.
Here is a recipe of the Indian fudge

-inspired rosemary brownies
Preparation Time: 30 minutes
Yield: About 16 brownies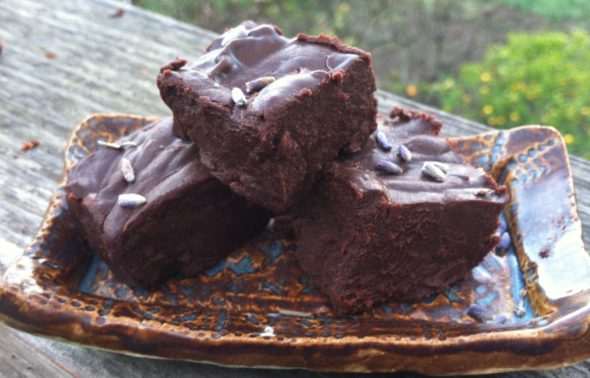 Once these babies have cooled to room temperature (if you can wait that long to taste them), you'll experience bites of moist chocolate goodness imbibed with the savory kick of rosemary – an advantageous herb in winter for its ability to strengthen circulation, metabolism, and elimination.
For a grain-free brownie, substitute the gluten-free flour mix with 3/4 cup blanched almond flour and 1/4 cup coconut flour. You can make this vegan by substituting the eggs with egg replacer. Ener-G brand egg replacer is my fave for baked goods.
Ingredients:
1/2 cup Coconut Oil
5 ounces Dark or Semi-Sweet Chocolate Chips
2 Eggs (at room temperature)
1 teaspoon Rosemary Extract or Vanilla Extract
1 cup All-Purpose, Gluten-Free Baking Flour
1/2 teaspoon Baking Powder
1/2 cup Organic Coconut Sugar
2 teaspoons fresh chopped Rosemary or 1 tsp dried
Pinch of Good Quality, Mineral-Rich Salt
4 drops certified pure therapeutic grade Rosemary essential oil (optional)
Directions:
Preheat your oven to 400 degrees. Grease an 8×8-inch baking pan with coconut oil.
Set up a double boiler method on your stove over medium heat. Melt the coconut oil and the chocolate chips, stirring occasionally, until the chocolate melts. Remove from heat.
In a small separate bowl with a wire whisk or fork, beat the eggs and then whisk them into the chocolate/oil mixture. Beat in the rosemary extract and set aside.
In a large bowl, combine the flour, baking powder, sugar, rosemary, and salt. Beat in the chocolate mixture until smooth. Spread the brownie mixture into your greased pan. Bake for about 15 minutes, and allow them to cool completely before digging in. Enjoy!
You may also like this: The Healing Power of Soup.
If you ever find that you need a nutritional reset post eating these brownies… Join my next Ayurvedic Cleanse Program! Register HERE